Alvaro Torres
Chief Executive Officer and Director
Mr. Torres has over 15 years of experience in the Latin American market, including infrastructure projects and project finance, management strategy, team development, and mergers and acquisitions. Mr. Torres was previously head of business development for SNC-Lavalin, Colombia, and was instrumental in growing the company from two people to more than 2,000 people in Colombia over the course of three years. Mr. Torres has overseen the development of projects totaling over $1 billion in capital expenditure, including the development and construction of Colombia's tallest skyscraper. Mr. Torres holds a Bachelor of Engineering and a Masters of Engineering from Rensselaer Polytechnic Institute and an MBA from Georgetown University.
Wendy Kaufman, CPA, CA
Chief Financial Officer
Ms. Kaufman, a Chartered Professional Accountant, is a finance executive with over 20 years of international financial experience. She has served in a variety of senior executive positions and has obtained significant experience with Latin American and European operations, gained during her tenure as CFO at Pasinex Resources Limited, CFO at Primero Mining Corporation, and previous to that in her role as Vice President, Finance and Treasury at Inmet Mining Corporation. She brings broad management and corporate finance experience, including financial management and reporting, strategy development, and corporate and project development funding. Wendy started her career with Arthur Andersen.
Livia M. Maduri
General Counsel & Corporate Secretary
Ms. Maduri brings a broad range of legal experience gained in private practice and in-house at a multinational life sciences company. Prior to joining Khiron, Ms. Maduri was the Director of Legal Services at Patheon Inc., part of Thermo Fisher Scientific, and previously, an Associate at Gowling Lafleur Henderson LLP (now Gowling WLG) in Toronto. In addition, Ms. Maduri brings over ten years' experience in Regulatory Affairs and Quality Assurance roles at several multinational pharmaceutical companies in Canada. Ms. Maduri obtained her B.Sc. (Pharmacology Specialist) degree from the University of Toronto, and her LL.B. from Osgoode Hall Law School. Ms. Maduri was called to the Bar of Ontario in 2007.
Regulatory, Compliance and Operations
Juan Diego Alvarez
Vice President Regulatory
Mr. Alvarez has 10 years of legal experience in Colombia and is an authority on Colombian medicinal cannabis regulation. He was previously a public policy advisor to the Ministry of Health in Colombia. In the last five years, Mr. Alvarez has been a consultant for Payson Center for International Development and USAID, a Professor of Law at the University of Los Andes, and VP Regulatory of Khiron Life Sciences Corp. Mr. Alvarez holds an LL.B from the University of Los Andes, a JD from Tulane University, an LL.M from Columbia University and is a PhD law candidate.
Matt Murphy
Vice President, Compliance
Mr. Murphy is an executive leader with broad based domestic and international expertise in both the federal and private sectors. As a Career Special Agent (25 years) with the DEA, he served in a multitude of positions prior to founding the Pharma Compliance Group (PCG). Mr. Murphy is an internationally recognized security expert in the fields of drug law enforcement, risk assessment and system development, regulatory compliance, and training. Mr. Murphy will support the Company by implementing closed loop systems to prevent product diversion and to enhance protocols across Khiron's plant-to-patient value chain.
Manuel Buendia
Vice President, Operations
Mr. Buendia is an Industrial Engineer and holds a Master's degree in Finance. He has over 15 years of experience in administrative areas and corporate finance management, creating and executing strategic plans, and management of resources and budgets. He previously worked as Financial and Administrative Assistant Manager at Clinica Vascular Navarra and Gomez Cajiao & Asociados.
Business Development, Sales and Marketing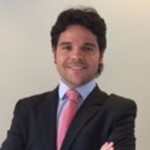 Andres Galofre
Vice President of Business Developments
Andrés Galofre has 15 years of experience in pharmaceutical marketing, brand management and distribution of prescription drugs and consumer products in Latin America. Mr. Galofre was integral in leading the launch of Advil in the Colombian market, which reached a 28% domestic market share. In the last five years, Mr. Galofre has been Marketing Manager for Alpina, Founder of VeggiesBox and VP of Business Development of Khiron Life Sciences Corp. Mr. Galofre has a Bachelor of Business Administration from CESA and an MBA from La Trobe University.
Healthcare and Medical
Rodrigo Durán
Vice President, Pharma
Highly skilled marketing and sales executive, Rodrigo has over 17 years of experience in the consumer goods and pharma industry. His wealth of experience covers directing go-to-market strategies, managing teams, and bringing brands to the consumer market across Latin America. As Consumer Brands Director for Team Foods, Rodrigo was responsible for $70 Million in US sales through retail and digital channels.
Rayet Harb
Clinics Development and Operations Sr. Manager
Rayet has more than 20 years of experience in operations management, administration and technology, with proven experience in design and execution of strategic, innovative and comprehensive projects. Executive management of healthcare companies. Rayet has extensive knowledge of health insurance and healthcare delivery services, and has a successful international track record for start-up of insurance companies, hospitals, medical centers, labs, diagnostic centers and other complementary service units. His expertise includes the design of expansion plans and market research through the implementation and operations, financial and operational management, clinical management processes, quality and patient experience journey, budget and finances, infrastructure, administration, technology, and shared services centers.
Country and Regional General Managers
Latin America
Rodrigo Azócar
General Manager, Chile
An experienced pharmaceutical industry specialist, Rodrigo Azocar has played an important role in marketing, brand positioning, management, and corporate development for leading pharma organizations in Chile, over a career spanning more than twenty years. Rodrigo is also current member of the board of ASILFSA, the Chile-based industrial association of pharmaceutical laboratories.
Luis Marquez
General Manager, Perú
Mr. Marquez is a Biologist, Marketing specialist and MBA from International University of La Rioja with over 28 years of successful experience in multinational pharmaceutical companies such as Pfizer, Aventis, and Rhône-Poulenc, . Prior to joining Khiron, Mr. Marquez served as as Country Manager for Peru and Bolivia for Pfizer, where he was responsible for executing the strategy for the Essential Products Business Unit, generating outstanding business results in both countries.
Europe
Tejinder Virk
Managing Director and President, Europe
Tejinder is a proven leader with over 15 years of executive-level experience in the capital markets and cannabis industry. Tejinder previously served as Deputy Managing Director, Europe, for Canopy Growth Corporation, where he was responsible for driving the multinational expansion of Canopy's European operations. He was also formerly Managing Director of Global Equity Products for BMO Capital Markets, a role which saw him developing and managing major client relationships across the Europe, Middle East and Africa region.
Franziska Katterbach
Managing Director and Chief Legal Officer, Europe
Franziska Katterbach is an accomplished business executive and legal expert (zugelassene Rechtsanwältin) who brings extensive experience working within Europe's emerging cannabis industry. After completing her legal studies at Universität Leipzig and Landgericht Darmstadt, Franziska joined corporate law firm Dentons, where she was involved high-profile deals in the cannabis sector across multiple jurisdictions. Franziska later served as Director of Legal for Canopy's European operations, prior to joining Khiron.